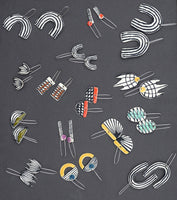 Silver and Porcelain Earrings
Handmade dangly earrings for a fun bold look. Each bead is handmade out of porcelain and decorated with slips and glazes for a durable permanent pattern. Hooking earwires are hand formed using solid sterling silver. 
Shop Earrings
Mugs and Tumblers
Start your day in style with these textured mugs and other drinking vessels. Each piece is meticulously hand carved from handle to lip, so that your senses are awakened while you sip your favorite steaming brew.
See All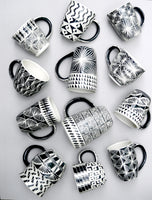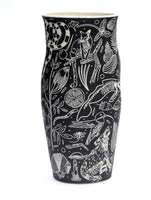 Illustration Pieces
Truly unique pieces of artwork featuring detailed motifs. A pattern is created using freehand carved imagery for a striking, graphic and elegant piece.
See All
Large Statement Pieces
A collection of the finest larger geometric pieces. Each one-of-a-kind piece is hand carved with original patterns. The most collectable pieces available.
See All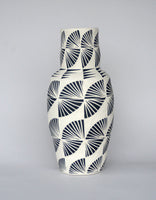 Follow @danabechert on instagram